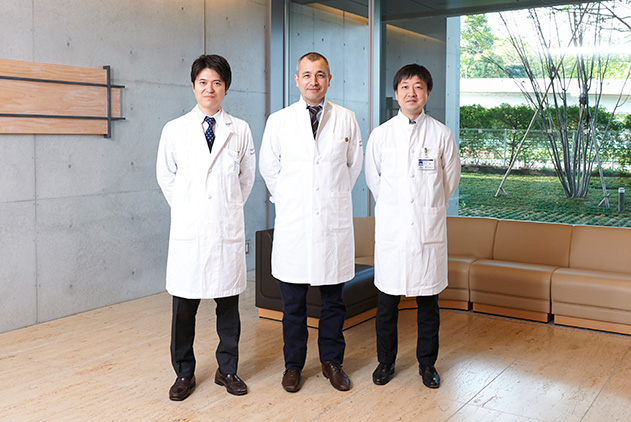 骨・軟部腫瘍の診断・治療はきわめて特殊なものであり、整形外科領域の疾患の中で最も専門性が要求される分野といえます。当院の年間手術症例数は約350例で、悪性腫瘍に対する外科的治療は、大半の症例に患肢温存手術を、良性疾患に関しては類骨骨腫に対するCTガイド下治療などの低侵襲手術を行っています。また、遺伝子診断の臨床応用や新規分子標的治療薬の臨床試験などトランスレーショナルな臨床にも心がけています。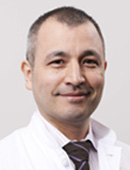 中山 ロバート Robert Nakayama
講師
卒業年度
2001年
専門
骨軟部腫瘍、転移性骨腫瘍
留学
2009年4月~6月 ウィーン医科大学整形外科、


2013年7月~2016年3月 ハーバード大学医学部 ダナ・ファーバー癌研究所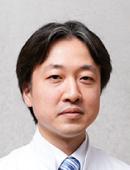 菊田 一貴 Kazutaka Kikuta
助教
卒業年度
2002年
専門
骨軟部腫瘍外科(小児・成人)、化学療法、機能再建、プロテオミクス
留学
2010年 コシャン病院(フランス)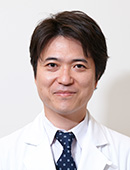 浅野 尚文 Naofumi Asano
助教
卒業年度
2004年
専門
骨軟部腫瘍外科(小児・成人)、転移性骨腫瘍、化学療法、機能再建




骨肉腫に対する再建
悪性骨腫瘍、特に骨肉腫の治療は、術前化学療法、手術、術後化学療法の順で行います。手術はほとんどの症例で、切断ではなく患肢温存手術を行い、腫瘍を切除した部位は腫瘍用人工関節や各種処理骨移植を行い再建します。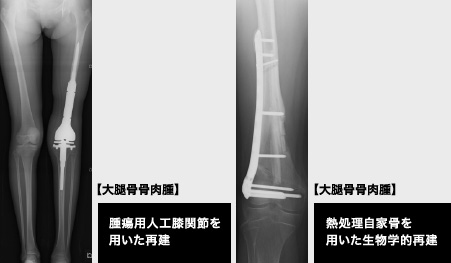 骨盤骨肉腫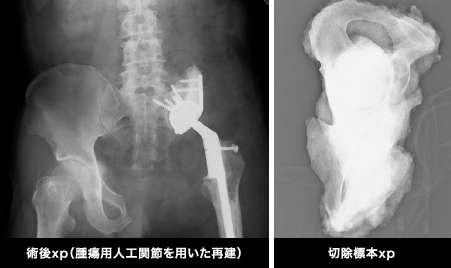 液体窒素処理自家骨を用いた生物学的再建
悪性骨腫瘍では広範切除後の欠損部の再建が問題となります。症例によっては罹患部を切除、液体窒素で凍結処理し、腫瘍細胞を死滅させた後に切除部に戻して生物学的再建を行っています(下の写真は脛骨adamantinomaの症例です)。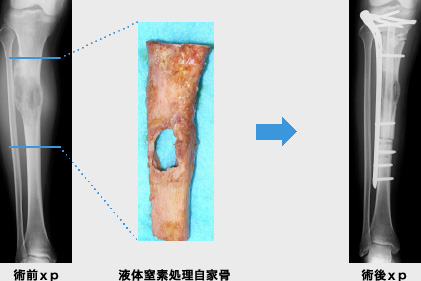 進行期悪性骨・軟部腫瘍に対する凍結融解壊死療法
近年、担癌患者の増加に伴い、骨転移の症例も増加しています。当院では2011年より、進行期悪性骨・軟部腫瘍に対して凍結融解壊死療法を行っています。発生部位にもよりますが、大きさが5cmまでであれば、2泊3日の入院での治療が可能です。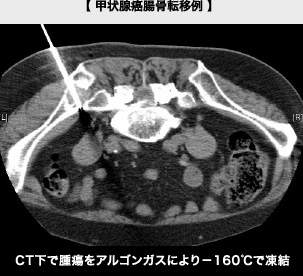 類骨骨腫に対するCTガイド下治療
類骨骨種は有痛性の良性骨腫瘍です。従来の方法では、手術中、腫瘍の局在把握が困難で、その結果切除範囲が大きくなり、術後創部痛や社会復帰が遅れることが問題でした。当院では1995年より、CTガイド下経皮切除を行っており、低侵襲な方法で、創部痛の軽減や早期社会復帰を行うことが可能になりました。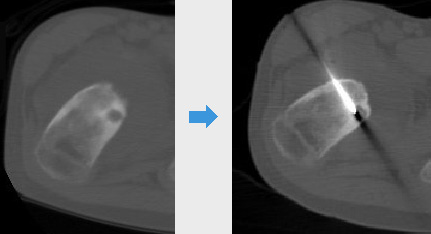 皮下浸潤性軟部肉腫に対する精密縮小手術のための術前MRIマーキング法
皮下組織は悪性軟部腫瘍の発生母地の一つです。皮下にできた腫瘍の20%程度が悪性と言われています。また、皮下に発生する悪性軟部腫瘍は粘液線維肉腫など非常に浸潤性が強く再発率が高い悪性腫瘍が発生するのが特徴です。腫瘍の浸潤性を正確に把握し精密でなおかつ、切除範囲を最小限に抑えた手術を施行するため、MRIで使用可能な各種のマーカーを駆使して精密縮小手術をおこなっています。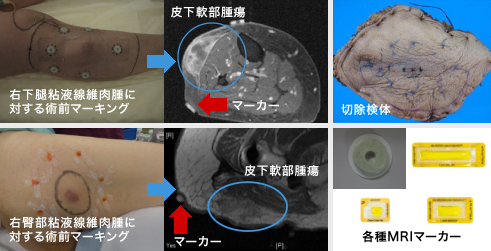 浸潤性軟部肉腫の浸潤再発機構解明を目指したプロテオミクス解析
皮下に好発する悪性軟部腫瘍として粘液線維肉腫が知られています。粘液線維肉腫は浸潤性傾向が強く、腫瘍切除後の再発が非常に多いことが知られています。また、皮下に発生する軟部腫瘍は良性腫瘍と誤診される場合が多く、不適切な治療がおこなわれることも問題になっています。そのため浸潤性軟部肉腫の治療成績向上を目指した、新しい診断治療技術を開発するため、国立がん研究センター研究所と共同で、腫瘍に発現するタンパク質を網羅的に解析するプロテオミクス解析という技術を用い浸潤性軟部肉腫の浸潤再発機構解明を目指した研究をおこなっています。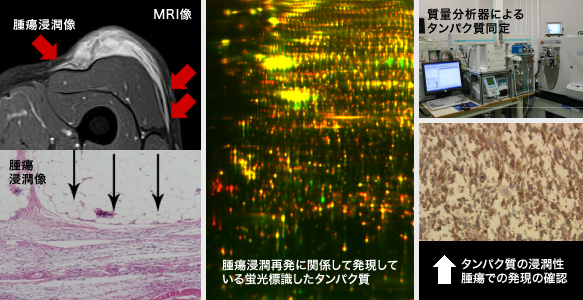 Yamaguchi Iwai S, Ueki A, Sugihara E, Onishi N, Yaguchi T, Kawakami Y, Morioka H, Matsumoto M, Nakamura M, Mutoh A, Toyama Y, Saya H, Shimizu T. Synergistic antiproliferative effect of imatinib and adriamycin in platelet-derived growth factor receptor-expressing osteosarcoma cells. Cancer Science 106: 875-882, 2015
Udaka T, Susa M, Kikuta K, Nishimoto K, Horiuchi K, Sasaki A, Kameyama K, Nakamura M, Matsumoto M, Chiba K, Morioka H. Langerhans Cell Histiocytosis of the Clavicle in an Adult: A Case Report and Review of the Literature. Case Reports in Oncology 8(3): 426-431, 2015
Aoyagi T, Morii T, Tajima T, Yoshiyama A, Ichimura S. Analysis of the risk factors for febrile neutropenia in patients with bone and soft tissue sarcoma. Anticancer Research 35: 2375-2383, 2015
Morii T, Aoyagi T, Tajima T, Yoshiyama A, Ichimura S, Mochizuki K. Unplanned resection of a soft tissue sarcoma: clinical characteristics and impact on oncological and functional outcomes. Journal of Orthopaedic Science (JOS) 20: 373-379, 2015
Morii T, Tajima T, Aoyagi T, Ichimura S. D-dimer Level Changes During Systemic Chemotherapy Can Predict Prognosis of High-grade Musculoskeletal Sarcoma Patients. Anticancer Research 35: 6781-6786, 2015
Irimura S, Nishimoto K, Kikuta K, Nakayama R, Susa M, Horiuchi K, Nakamura M, Matsumoto M, Morioka H. Successful Treatment with Pazopanib for Multiple Lung Metastases of Inguinal Epithelioid Sarcoma: A Case Report. Case Reports in Oncology 8(3): 378-384
Kinoshita T, Kamiyama I, Hayashi Y, Asakura K, Ohtsuka T, Kohno M, Emoto K, Nakayama R, Morioka H, Asamura H. Spontaneous Regression of Metastatic Extraskeletal Myxoid Chondrosarcoma. Annals of Thoracic Surgery Volume 100: 1465-1467, 2015
Hirozane T, Suzuki T, Yoshida H. Pycnodysostosis with a patella fracture. Lancet Diabetes & Endocrinology 10: 826, 2015
Hosaka S, Katagiri H, Wasa J, Murata H, Takahashi M. Solitary fibrous tumor in the pelvis: induced hypoglycemia associated insulin-like growth factor II. Journal of Orthopaedic Science (JOS) 20: 439-443, 2015
Susa M, Oguro S, Kikuta K, Nishimoto K, Horiuchi K, Jinzaki M, Nakamura M, Matsumoto M, Chiba K, Morioka H. Novel MR imaging method - MAVRIC - for metal artifact suppression after joint replacement in musculoskeletal tumor patients. BMC Musculoskeletal Disorder 16: 377, 2015
Setsu N, Kobayashi E, Naofumi A, Yasui N, Kawamoto H, Kawai A, Horiuchi K. Severe hypercalcemia following denosumab treatment in a juvenile patient. Journal of Bone and Mineral Research (JBMR) 34: 118-122, 2015
Koba T, Susa M, Nakayama R, Watanabe I, Horiuchi K, Mukai M, Yabe H, Toyama Y, Morioka H. Desmoplastic fibroma arising in the distal phalanx of the great toe: a case report. Foot and Ankle Surgery 53: 71-74, 2015
Nishida Y, Kobayashi E, Kubota D, Setsu N, Ogura K, Tanzawa Y, Nakatani F, Kato Y, Chuman H, Kawai A. Chronic expanding hematoma with a significantly high fluorodeoxyglucose uptake on 18F-fluorodeoxyglucose positron emission tomography, mimicking a malignant soft tissue tumor: a case report. Journal of Medical Case Reports. 8: 349, 2014. (0.40)
Yoshiyama A, Morii T, Tajima T, Aoyagi T, Honya K, Mochizuki K, Satomi K, Ichimura S. D-dimer levels in the differential diagnosis between lipoma and well-differentiated liposarcoma. Anticancer Research. 34: 5181-5185. 2014. (1.872)
AsanoN, Yoshida A, Ogura K, Kobayashi E, Susa M, Morioka H, Iwata S, Ishii T, Hiruma T, Chuman H, Kawai A. Prognostic value of relevant clinicopathologic variables in epithelioid sarcoma: a multi-institutional retrospective study of 44 patients. Annals of Surgical Oncology. 22: 2624-2632, 2014. (3.943)
Asano N, Yoshida A, Kobayashi E, Yamaguchi T, Kawai A. Multiple metastases from histologically benign intraarticular diffuse-type tenosynovial giant cell tumor: a case report. Human Pathology. 2014 Nov; 45: 2355-2358. (2.81)
Fukunaga Y, Miyamoto S, Kobayashi E, Sakuraba M. Venous-supercharged free-style posterior thigh flap without a descending branch of the inferior gluteal artery for reconstruction in the infragluteal region. Journal of Plastic, Reconstructive & Aesthetic Surgery. 2014 Dec; 67: 1740-1743. (1.47)
Kobayashi E, Koyama T, Kobayashi K, Setsu N, Kawashima M, Kawai A. Reversible hair depigmentation in a Japanese female treated with pazopanib. Journal of Dermatology. 41: 1021-1022. (2.35)
Miyamoto S, Kayano S, Kamizono K, Fukunaga Y, Nakao J, Nakatani F, Kobayashi E, Sakuraba M. Pedicled superficial femoral artery perforator flaps for reconstruction of large groin defects. Microsurgery. 34: 470-474, 2014.(1.62)
Yoshida A, Asano N, Kawai A, Kawamoto H, Nakazawa A, Kishimoto H, Kushima R. Differential SALL4 immunoexpression in malignant rhabdoid tumours and epithelioid sarcomas. Histopathology. 66: 252-261, 2014.(3.301)
Yamazaki F, Osumi T, Shigematsu N, Morioka H, Shimada H. Successful treatment of metastatic rhabdomyosarcoma with radiochemotherapy and allogeneic hematopoietic stem cell transplantation. Japanese Journal of Clinical Oncology 45: 225-228, 2014
Kikuta K, Kubota D, Yoshida A, Morioka H, Toyama Y, Chuman H, Kawai A. An analysis of factors related to the tail-like pattern of myxofibrosarcoma seen on MRI. Skeletal Radiology 44: 55-62, 2014
Nakayama R, Horiuchi K, Susa M, Watanabe I, Watanabe K, Tsuji T, Matumoto M, Toyama Y, Morioka H. Clinical outcome after bone metastasis (BM) surgery in patients with differentiated thyroid carcinoma (DTC): a retrospective study of 40 cases. Japanese Journal of Clinical Oncology 44: 918-925, 2014
Fukuda S, Susa M, Watanabe I, Nishimoto K, Horiuchi K, Toyama Y, Morioka H. Computed tomography-guided resection of osteoid osteoma of the sacrum: a case report. Journal of Medical Case Reports 8, 2014
Mori T, Sato Y, Miyamoto K, Kobayashi T, Shimizu T, Kanagawa H, Katsuyama E, Fujie A, Hao W, Tando T, Watanabe R, Morita M, Iwasaki R, Kawana H, Morioka H, Matsumoto M, Saya H, Toyama Y, Miyamoto T. TNFa promotes osteosarcoma progression by maintaining tumor cells in an undifferentiated state. Oncogene 33: 4236-4241, 2014
Odagiri H, Kadomatsu T, Endo M, Masuda T, Morioka MS, Fukuhara S, Miyamoto T, Kobayashi E, Miyata K, Aoi J, Horiguchi H, Nishimura N, Terada K, Yakushiji T, Manabe I, Mochizuki N, Mizuta H, Oike Y. The Secreted Protein ANGPTL2 Promotes Metastasis of Osteosarcoma Cells through Integrin α5β1, p38 MAPK, and Matrix Metalloproteinases. Science Signaling. 7: ra7, 2014. (7.65)
Mori T, Sato Y, Miyamoto K, Kobayashi T, Shimizu T, Kanagawa H, Katsuyama E, Fujie A, Hao W, Tando T, Iwasaki R, Kawana H, Morioka H, Matsumoto M, Saya H, Toyama Y, Miyamoto T. TNFαpromotes osteosarcoma progression by maintaining tumor cells in an undifferentiated state. Oncogene 33: 4236-4241, 2014
Matsushima S, Ohtsuka K, Ohnishi H, Fujiwara M, Nakamura H, Morii T, Goto H, Watanabe T. V843I, a lung cancer predisposing EGFR mutation, is responsible for resistance to EGFR tyrosine kinase inhibitors. Journal of Thorac Oncology. 9: 1377-1384. 2014. (5.8)
Fujiwara T, Katsuda T, Hagiwara K, Kosaka N, Yoshioka Y, Takahashi R, Takeshita F, Kubota D, Kondo T, Ichikawa H, Yoshida A, Kobayashi E, Kawai A, Ozaki T, Ochiya T. Clinical relevance and therapeutic significance of microRNA-133a expression profiles and functions in malignant osteosarcoma-initiating cells. Stem Cells. 32: 959-973, 2014. (7.70)
Kikuta K, Morioka H, Kawai A, Kondo T. Global protein-expression profiling for reclassification of malignant fibrous histiocytoma. Biochimica et Biophysica Acta - Proteins & Proteomics 1854: 696-701, 2014
Mukaihara K, Kubota D, Yoshida A, Asano N, Suehara Y, Kaneko K, Kawai A, Kondo T. Proteomic profile of epithelioid sarcoma. Journal of Proteomics & Bioinformatics. 7: 158-165, 2014.
Kobayashi E, Satow R, Ono M, Masuda M, Honda K, Sakuma T, Kawai A, Morioka H, Toyama Y, Yamada T. MicroRNA expression and functional profiles of osteosarcoma. Oncology. 18; 86: 94-103, 2014. (2.1)
Huang G, Nishimoto K, Yang Y, Kleinerman ES. Participation of the Fas/FasL signaling pathway and the lung microenvironment in the development of osteosarcoma lung metastases. Advances in Experimental Medicine and Biology. 64: 30-36, 2014. (2.012)
Kubota D, Yoshida A, Kikuta K, Saito T, Suehara Y, Gotoh M, Kawai A, Kondo T. Proteomic approach to gastrointestinal stromal tumor identified prognostic biomarkers. Proteomics and Bioinformatics 7: 10-16, 2014
Yamaguchi K, Yanagimoto S, Kageyama T, Fujita Y, Funayama A, Kanaji A, Susa M, Toyama Y. Experimental assessment of a novel intramedullary nail for callus distraction by the segmental bone transport method. J Orthop Sci. 2014 Mar; 19(2): 323-31. (1.008)
Mori T, Sato Y, Miyamoto K, Kobayashi T, Shimizu T, Kanagawa H, Katsuyama E, Fujie A, Hao W, Tando T, Iwasaki R, Kawana H, Morioka H, Matsumoto M, Saya H, Toyama Y, Miyamoto T. TNFα promotes osteosarcoma progression by maintaining tumor cells in an undifferentiated state. Oncogene. 2014 Aug 14; 33(33): 4236-41. (8.559)
Kobayshi E, Setsu N. Osteosclerosis Induced by Denosumab. Lancet. 2014 Oct 28. pii: S0140-6736(14) 61338-6. [Epub ahead of print]. (39.21)
Morii T, Ohtsuka K, Ohnishi H, Mochizuki K, Yoshiyama A, Aoyagi T, Hornicek FJ, Ichimura S. BH3 mimetics inhibit growth of chondrosarcoma--a novel targeted-therapy for candidate models. Anticancer Res 34: 6423-6430. 2014. (1.872)
Morii T, Aoyagi T, Tajima T, Yoshiyama A, Ichimura S, Mochizuki K. Unplanned resection of a soft tissue sarcoma: Clinical characteristics and impact on oncological and functional outcomes. J Orthop Sci. (In press) (1.008)
Aoyagi T, Morii T, Tajima T, Yoshiyama A, Ichimura S. Analysis of the Risk Factors for Febrile Neutropenia in Patients with Bone and Soft Tissue Sarcoma. Anticancer Res. (In press) (1.872).